College students everywhere are scrambling for funding to complete their educations, and art students are no exception. Most people know to tap their savings for college and to apply for scholarships and student loans, but grants are sometimes overlooked. Grants differ slightly from scholarships in that they are sometimes tied to the completion of a specific project. The funds, however, can also be used for living and educational expenses.
Art students, in particular, can benefit from the process of applying for grants. They can earn the money they need, of course, but can also learn the ins and outs of the grant system. Since grants are often a major source of income for professional artists, applying for them as a student is a way of practicing a valuable skill that will be needed later.
Some art grants require the submission of completed works. Other grants are based on a proposal describing a work that will be completed with all or part of the grant money. Almost all grant applications require the submission of an artistic resume, school transcripts, recommendations from instructors or mentors and a strong portfolio of completed works.
When looking at art grants, remember that art itself can have a very broad definition. Art grants can be found for works of artistic expression as varied as photography, digital media, textiles, pottery and dance. There are even art grants for performing artists, puppeteers, costume makers and architects. Some grants are specifically for art students, while others allow both students and working art professionals to apply.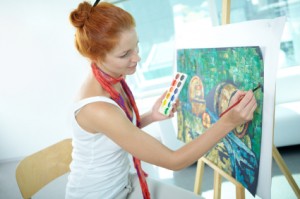 The following is a list of grants available to art students. They all have detailed submission criteria. Some even have specific requirements that must be met after the grant is awarded. Pay careful attention when applying for a grant to ensure that all the requirements are properly met.
General Art Grants
General art grants are usually awarded to students majoring in art regardless of their chosen media.
The Scholastic Art and Writing Awards
The Scholastic Art and Writing Awards date back to 1923. Past winners include such well-known artists, actors and writers as Robert Redford, Andy Warhol and Sylvia Plath. The awards are designed to give students in grades seven through 12 recognition for their creative talents.
There are 28 different art and writing categories that offer the chance of scholarships as well as publication or exhibition of the winning works. The longest running award program for young artists and writers, the Scholastic Art and Writing Awards have distributed more than $25 million in scholarships to over 9 million students since its inception. It is the largest single source of scholarships for young writers and artists in the U.S.
Submissions, judged by experts in the literary and visual arts fields, are chosen based on technical skill and originality as well as on the uniqueness of the individual artistic vision. Students in junior high and high school can apply for college scholarships and exhibition and publication opportunities in 28 different categories of writing and art.
High school seniors who have been awarded a National Medal through the program are eligible to win part of the $250,000 in scholarships awarded annually. They can also earn other scholarships from universities and colleges that have partnered with the program.
To find further information on this grant program, visit artandwriting.org.
National Foundation for Advancement in the Arts – YoungArts Grant
The NFA offers recognition and financial support to 17 and 18-year-olds who show outstanding artistic talent. It offers separate grants for dance, music, cinematic arts, photography, voice, writing, visual arts and theater.
An application fee of $25 to $35, depending on when the application is sent in, is required. Each applicant has the opportunity to earn part of the $3 million that the Foundation distributes each year.
To apply, students must be nearing the end of their Junior year of high school. For more information, visit the NFA's YoungArts page.
The Jack Kent Cooke Foundation Graduate Art Award
This grant was established to aid art students who demonstrate outstanding skills in their chosen fields, but who struggle financially because they come from lower-income families. Their fields of study can be in the performing arts such as dance or theater, creative writing or visual arts like painting or photography.
With awards as high as $50,000 annually, based on educational costs as well as financial need, this is a grant well worth pursuing. The winning artist can use the funds for books, fees, tuition or any other educational expenses.
To be eligible for the Jack Kent Cooke Award, a student must demonstrate financial need, have exceptional creative ability and have up to three years of study left at an accredited post-secondary institution. The institution can be in the U.S. or any other country.
Students interested in this grant cannot apply for it directly. They have to be nominated for consideration by a faculty member of their school who represents the Jack Kent Cooke Foundation. After nomination, selection criteria include academic achievements, creativity, artistic skill, personal determination and past participation in a wide range of outside activities.
Further information, including a downloadable flyer, can be found at the Jack Kent Cooke website.
The Jerome Foundation Travel and Study Grant
The Jerome Foundation grant is awarded to new artists who create works of music, literature, traditional visual art, dance, digital media or experimental theater. Its one stipulation is that students applying for this grant must be residents of New York City or the state of Minnesota. This grant is also open to nonprofit art organizations based in those same areas.
If awarded, the grant can be used for such activities as research, training programs, collaboration, education, individual study, the investigation of works of art outside of the residential requirement areas and even contemplative time. It cannot be used for the creation of new works of art or for studies designed to lead to a teaching degree.
The Grant committee rotates the fields of art being considered each year. For the 2012 art year, for example, the committee accepted applications from artists in the fields of literature, video, dance and film.
These once-yearly grants are awarded based on not only the quality of the applicant's work, but also the work's potential. A proposal must also be submitted explaining how the grant funds will be used. Informational workshops are offered by the Jerome Foundation to aid students in submitting their applications and clarifying their project parameters.
Further information about applying for the Jerome Foundation Travel and Study Grant can be found at the Jerome Foundation website.
The Phi Kappa Phi Artist Award
This $1,000 grant is offered by the Honor Society of Phi Kappa Phi, an invitation-only postsecondary school honor society. Established in 1983, the Artist Award is intended to honor students who not only demonstrate outstanding scholarly achievement, but who also excel in the field of art.
To qualify for this award, a student must be a member in good standing of Phi Kappa Phi. A nomination packet must be submitted including a cover letter listing academic achievements, extracurricular activities, educational institutions attended, professional memberships, honors and awards. Also required is a listing of any exhibits, publications or public performances of the student's art. While the application is called a nomination form, self-nomination is allowed.
For more information about the Phi Kappa Phi Artist Award, visit their website.
The College Art Association Professional-development Grants
The College Art Association offers two professional development grants to art students. One is awarded in the area of visual arts and the other in the area of art history. Offered to students who are currently enrolled in PhD or MFA programs, these $5,000 one-time grants are designed to help student artists make the jump from graduate school to their professional careers.
To qualify for a CAA grant, students must be active CAA members, citizens or permanent residents of the US and must anticipate receiving their degrees in the next calendar year. The students must also demonstrate a master-level proficiency in their chosen art fields, as well as a unique approach or technique in their work.
Information on applying for the CAA visual arts award can be found here: visual arts award application.
Information on the art history award is available here: art history award application.
The Hispanic Scholarship Fund / McNamara Family Creative Arts Project Grant
This grant is designed to aid Latino students who are actively enrolled as undergraduate or graduate students in a creative arts field. The field can be media arts, filmmaking, communications, creative writing or any of the performing arts such as dance, acting or music.
To be eligible for this $15,000 grant, a student must be of Hispanic heritage, be a U.S. citizen or a legal permanent resident, have a minimum grade point average of 3.0 and be enrolled full-time in an accredited academic institution. The student must also be majoring in art of some form and must have completed the Federal Student Aid application form (FAFSA) for the upcoming academic year.
To obtain an information packet about this grant or to view sample work descriptions. visit the Hispanic Scholarship Fund website.
Grants for Photography Students
Photographic grants usually require the submission of a portfolio of past works. Often a proposal outlining a new body of work to be completed within the grant period is also required.
The W. Eugene Smith Memorial Fund Humanistic Photography Grant
W. Eugene Smith was a photo essayist who believed that photography was a means of communication. He saw photography as a small voice that could sometimes communicate large ideas. His own photos were both optimistic and sentimental, often drawing a clear line between the concepts of good and evil.
The Humanistic Photography Grant was founded to honor his memory and is now considered one of the most prestigious awards offered for documentary photography.
This $30,000 grant is offered each year to provide photographers the financial freedom to continue their studies and work. Sometimes an additional $5,000 fellowship grant is awarded to one or more of the finalists not chosen for the main grant if their work seems worthy of recognition. The judges of this award are looking for a photographer who is strongly committed to presenting photo essays that reveal the human condition with both concern and compassion.
Students hoping to be considered for this award must submit a written proposal outlining the project they plan to complete. The project must have an emphasis on visual presentation and humanistic content.
An educational resume must also be submitted along with 20 to 40 images that demonstrate the applicant's photographic ability. These may be presented digitally on a CD or DVD but may also be sent in as traditional photographic prints no larger than 8 X 10 inches.
This grant contains one stipulation: During the award year, the winner must donate 12 completed prints to the W. Eugene Smith Memorial Fund. To view submission guidelines and the application form, please visit the Smith Fund website.
The Howard Chapnick Grant for Photojournalism
This grant was created by the W. Eugene Smith Memorial Fund to honor the contributions of Howard Chapnick to the field of photojournalism. The annual award of $5,000 is given for a project in photojournalism that promotes positive social change. It is designed to support and encourage such fields as photographic editing, research and education.
The award money can be used for research, an internship, work on a sabbatical project or for educational expenses. It is not intended solely for the production of a photographic exhibit. Winners of this award are chosen by the W. Eugene Smith Memorial Fund board of trustees.
More information and a downloadable PDF application form can be found here: Chapnick Grant application.
The Aaron Siskind Individual Photographers Fellowship Grant
The Aaron Siskind Foundation offers several grants of up to $10,000 each year. Applicants must be artists working with photography or other photo-based kinds of art. The contest is open to all citizens and legal permanent residents of the U.S. who are at least 21 years old.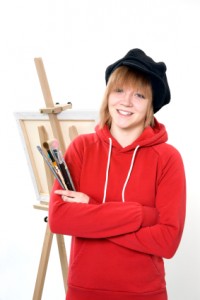 There are no restrictions on the type of work that can be submitted. Traditional photographs as well as experimental works are welcomed. The subject matter can also be freely chosen by the artist. Video, Internet and mixed-media projects, however, are not accepted.
To apply for this award, an information packet must be submitted that includes a portfolio of eight images that represent the artist's best work. They may be the actual photographs, or, if it shows the work more effectively, one of the images may be of the photos as they are shown in a gallery setting. Each image must be titled and dated. A 350-word artist statement must also be included. It should clearly outline the intent and meaning of the works that are being submitted. The artist must also include a brief biography.
For more information on this grant, visit the Aaron Siskind Foundation website.
The Alexia Foundation for World Peace Photography Contest Grant
Each year, the Alexia Foundation offers a $15,000 cash award to the student whose work best supports the foundation's goals of cultural understanding and world peace. An additional $500 is available for the completion of a picture story that demonstrates these same goals. The foundation also awards an internship with MediaStorm to the first place winner.
A second place award includes a $7,650 stipend and the opportunity to participate in a Momenta Photo Workshop. Three awards of $1,600 and participation in a Momenta Workshop are also given to third, fourth and fifth place winners.
To qualify for these grants, a student must be a full-time student during the contest year. A second contest with lower award amounts is available to those who will be graduating in the contest year.
For further information about the Alexia Foundation Photography Grant, visit the foundation's website.
The Dorothea Lange – Paul Taylor Documentary Prize
This annual $20,000 grant is offered to a team of artists consisting of a photographer and a writer. The pair must be just starting the fieldwork of a planned documentary. The prize was first created to honor the collaborative works of nationally renowned photographer Dorothea Lange and writer Paul Taylor. Together they published a book of photos and text called "An American Exodus."
More information on this grant can be found at this Duke University website.
Filmmaking Grants
The John Hope Franklin Student Documentary Award
The John Hope Franklin Student Documentary Award was established in 1989 at Duke University's Center for Documentary Studies. The award was created to honor a former professor of history at Duke, John Hope Franklin. Franklin had dedicated his life to teaching and to his students.
This grant is awarded to a student who can demonstrate the talents and interest necessary to complete an intensive, summer-long documentary project. Skills that will be judged include creative writing, community service activities, videography, photography and past experience conducting oral history interviews. The $2,000 grant is intended to pay for the completion of a documentary project which will then be archived at Duke University.
This grant is only open to undergraduate students of North Carolina Central University, the University of North Carolina at Chapel Hill, Duke University or North Carolina State University. To download an application for the John Hope Franklin Grant click on this link.
The LEF Foundation Moving Image Fund Grant
The LEF is a family-formed, private foundation created for the purpose of supporting creative endeavors, especially works of art that inspire their audiences to look at the world in a new or different way. The Foundation often tries to support projects just as they are getting off the ground. By giving artists' projects their initial infusion of funds, the LEF Foundation hopes to attract other funding opportunities to these projects.
The LEF Foundation offers support to video art students in California and New England and limits the scope of these projects to documentary filmmaking. It offers grants that fund film projects at three different stages of development: pre-production, production and post-production.
The pre-production grants of $5,000 must be used for story development, further fund raising, location scouting, research, location photos, trailer creation and distribution planning. The $15,000 production funding grants can be used for the actual filming of the project as well as for travel expenses, technical staff, equipment costs and sound recording.
Post-production grants of $25,000 can be used for sound mixing, color correction, video-transfer costs, editing and the development of a distribution strategy.
Requirements
Film and video projects are judged by their originality, their artistic vision and the skill with which they were made. The power of the film's central storyline is also important as well as the feasibility of its production.
Projects must have a running time of over 40 minutes, have a total budget of under $350,000 and employ personnel from the New England area. Production and post-production projects that have already been awarded LEF funding will be given priority over other projects.
To apply for LEF Moving Image Fund Grant, an applicant must submit a paper outlining the purposed film's concept, artistic voice and aesthetic, intended audience and its cultural relevance. An estimated production and distribution schedule must also be included.
In addition to the film proposal, an applicant must submit a filmography, a resume, a budget summary and a sample work of no more than 10 minutes on DVD. If there is any footage relevant to the grant project, that should be included as well.
For more information about the LEF Foundation and how to apply visit the Foundation's guidelines page.
Miscellaneous Field-Specific Grants
The Stella Blum Student Costume Research Grant
This $2,000 grant, administered by the Costume Society of America, is designed to help college students research a single historical costume project. The finished research project must be presented at a national symposium. The grant includes an additional $500 for travel expenses.
The grant was named for Stella Blum who was an educator, writer, costume curator and a member of the Metropolitan Museum of Art's Costume Institute. It is available to undergraduate and graduate students who are members in good standing of the Costume Society and studying in the field of North American Costume design or history.
To meet eligibility requirements for the Stella Blum Grant, a student must be attending an accredited university with a degree program and must be researching a costume project in North America.
Expenses that the grant covers include transportation to the research site, living expenses while at the research site and research materials such as photographic equipment, paper, books and digital storage supplies. Computer graphics and searches are also considered allowable expenses.
The application process requires an abstract of the planned research project, academic transcripts, access-permission letters from any research sites the applicant plans to visit and two letters of recommendation.
A proposal of no more than 1,000 words is also required. It should outline the project and its significance and describe the applicant's unique qualifications to undertake the project as well. The project will be judged by the significance of its topic as well as its feasibility, methodology and budget.
More information about the Stella Blum Research Grant can be found at this link from the Costume Society of America website.
The Princess Grace Awards Program for Theater Arts
The Princess Grace Foundation-USA, founded by the late Princess Grace of Monaco, sponsors a yearly contest to bestow grants, fellowships and apprenticeships in the areas of theater, play writing, dance and choreography. The Foundation also gives scholarships for the production of undergraduate and graduate-level thesis films.
The philosophy behind the Foundation is that emerging artists need to focus their creative energy on learning their craft, not on fundraising. The Foundation works in conjunction with non-profit organizations and nominating schools to recognize talented new artists and provide them with moral support, encouragement and financial aid.
To qualify for any of these grants, a student must be a U.S. Citizen or have permanent resident status and, except for playwrights, must be nominated for the award by a company artistic director or a college department chair. All grant funds are designated for use in the United States and nominating organizations must be legal, tax-exempt non-profits.
The application timing for each of the grants is quite specific. For the Theater Arts Award, all applicants must be entering their final year of a graduate or undergraduate program. To qualify for the Dance Scholarship, students must have completed at least one full year at an accredited institution. Students cannot be enrolled in graduate programs or in dance education.
To qualify for the Film Scholarship, the applicants must be nearing the end of their education so that the funds can be used for their thesis films. Furthermore, they must be studying film making at an institution from the Foundation's approved list of institutions and must have already completed at least one film.
For more information about the Princess Grace Foundation-USA and the grants that it offers, visit the Foundation's website.
Expressions Digital Arts Grant
This scholarship, offered by the Expressions College of Digital Arts, is meant to fund art students focused on digital media. To qualify for this grant, a student must be enrolled in good standing in a degree-awarding art program, must have maintained a 3.0 grade point average and show a strong potential for growth in the field of the digital arts industry. High financial need will also be taken into consideration.
The application requires a portfolio of completed art, a short essay which includes an artist statement and at least one written recommendation from an instructor. For further information and to apply, visit the financial aid page of Expressions College.
College Grant Information By State