College is an eye-opening experience for all students. However, some students want to take that experience a step further and broaden their horizons by studying in another country. Programs are available to study for a summer, a semester or a full year. For each of these time frames, numerous opportunities are available for grant funding and scholarships to pay the expenses that will be encountered.
It is also important to note here that the student does not need to be fluent in a second language. There are many programs of study in foreign countries that are taught primarily in English or that incorporate language studies into the program so that a student can be immersed in the culture while learning the language.
Flexibility is a very common attribute of many study abroad programs. Students should not be deterred by possible roadblocks. Most issues can be easily resolved before they become a preventative measure.
Before beginning research into the details of a program of study, a notable resource is NAFSA's page regarding myths and realities of financing study abroad. This page can be found at Myths and Realities.
This page can be a good resource to help streamline the planning for a semester abroad, as it notes the importance of presenting a detailed budget and applying for as much financial assistance as necessary for an excursion that can be pricey.
Other tips included in the myths and realities involve maintaining student financial aid for within the United States while studying abroad, details on whether loan repayment will come into effect or you will retain student status while studying out of the country and whether loans and other aid funds will be available in a timely manner when the school schedule abroad may differ from that of a local university.
The myths and realities are a section of the An undergraduate student's resource regarding financial aid for study abroad, which covers various important topics on the subject.
When the decision has been made to study abroad and the search for a program and time frame begins, a good place to start is a college of your choice. Many colleges now offer opportunities to spend a semester or longer abroad. As part of a well-rounded education, being exposed to the views and lifestyles of people who were brought up in a different culture is highly beneficial.
For that reason, some of these colleges have developed long-standing relationships with partner universities in various other countries and have well-established methods of applying for the experience and for financial assistance.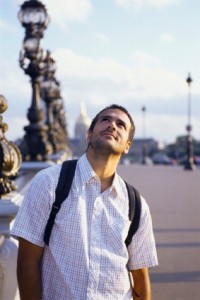 Some colleges offer the opportunity at the same cost as a semester's tuition locally, with the exception of room and board. Other specific agreements can also be in effect to help make a semester abroad cheaper than a semester at the school of the student's choice locally.
Some examples of colleges and universities in the United States that support strong study abroad programs include: Columbia University, Dartmouth, Duke University and Michigan State University. These four and numerous others were nominated by students and adminstrators for a report in the U.S. News in the spring of 2011.
For the complete list and access to further details on the programs available at each university, visit colleges.usnews.rankingsandreviews.com.
The top ranked program, according to the U.S. News report, was at American University in Washington, D.C. The university provides general mobility awards to help finance the experience, which provides up to $2,500 for each student awarded the assistance.
Also, program specific scholarships are available through the partner universities that host American University students. For more detailed information on the American University study abroad program, auabroad.american.edu.
Study Abroad Programs with Scholarships
Summer study programs can be found for any course of study and also for varying terms so that the program can fit into any interested student's summer, even with other plans already in place. A number of organizations provide connections to programs all over the world and also provide opportunity to apply for a scholarship to help with the financial aspects of such a trip.
CIEE's study abroad programs are available in numerous countries and a variety of areas of study. Scholarships are also available to assist with the financial side of studying and living abroad for any period of time.
In order to apply for a scholarship for a CIEE program, visit www.ciee.org. This web site provides details of the scholarship application, which requires an essay detailing objectives and financial need, among other things. Also, the scholarship has two annual deadlines, allowing for a second chance if the first deadline is missed.
Other alternatives include similar programs with CEA Global Education, CCIS Study Abroad, Academic Studies Abroad, just to name a few of the many options available. All of these sites offer details on the programs a student can choose and any financial assistance that can be attained for the adventure.
Each group or program that offers study abroad opportunities has a special focus and an opinion of how the experience should play out for each student. Some believe bigger groups visiting a country together can experience the local culture without feeling too distant and cut off from their own country. Others, such as Academic Studies Abroad, believe that groups should be smaller to allow greater interaction with the destination culture.
Most understand the importance of helping a student face the unknown and therefore have detailed orientations both prior to departure and once the student arrives in the destination country to begin the program of study. Other considerations such as health insurance for the student while abroad and guarantees that credits will transfer to other schools are factors that should be considered also.
Details that may seem unimportant can become huge factors in hampering the experience at a later date. Therefore, a thorough program that looks at all angles before the student commits to the study program and leaves for the adventure are the best programs to devote time and effort to for the experience.
Rotary scholarships
Rotary chapters exist in almost every town or city across the United States. Rotary goals include advancing world understanding goodwill and peace. These goals are reached by helping provide healthcare, education and general improvement to financial circumstances in foreign countries.
The Rotary foundation also hopes to help younger generations better understand other countries by experiencing life abroad. A program called Rotary Youth Exchange help both high school and college students spend up to a year with a family in another country, fully immersed in a new culture.
This helps gain understanding of and empathy for people who experience life differently. For more information, visit The Rotary Youth Exchange.
The Rotary Foundation also offers an Ambassadorial scholarship to not only undergraduate students but also graduate students and young professionals hoping to begin their careers with experience in a foreign country.
For more information on Ambassadorial Scholarships, visit www.rotary.org.
Institute of International Education
The IIE offers detailed information to those who wish to spend time studying in a foreign country. A good place to start is IIE's student passport, located at IIEpassport. This site offers a student toolkit, which not only helps a student find the right program for him or her, but it also provides information on scholarships for those programs.
Application deadlines are clearly listed on the site as well, helping any prospective student keep on track and apply on time. Also, the site has an option to choose the part of the world you are most interested in and see what areas the IIE is connected to. From there, scholarship management links and contacts within the organization that can best assist a potential study abroad student are displayed for easy use.
Delaying the Real World and Circumnavigators' Grants
For those who want to travel to expand their horizons without the consideration of further education, grants are available for you too. The Delaying the Real World travel grant is for individuals age 21-29 who do not intend to seek further education and yet are not ready to find a career path and join the working world.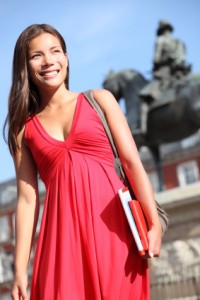 A book, Delaying the Real World by Colleen Kinder, is a resource of ideas to be able to make money for necessities while avoiding the full-time job that may normally require. The book is recommended as a must-read for anyone who is awarded the Delaying the Real World fellowship. More information can be found at www.delayingtherrealworld.com.
Circumnavigator grants are designed for undergraduate students between their junior and senior years who want to complete a round-the-world study project during the summer. The program was created through a partnership between Northwestern University and the Circumnavigators Club Foundation.
Up to a $9,000 grant will be awarded to the individual that plans to visit at least five different countries on three different continents. These countries should not include the United States and Canada. For more information on this grant and the application process, a visit to The Circumnavigators Travel-Study Grant Page is in order.
Postgraduate Study Grants
Having a degree already does not mean all hope is lost for educational experiences abroad. Some post-graduate programs at U.S. universities recognize the importance of having experience outside the nation in order to better understand life in general.
Therefore, partnerships with foreign universities have also been developed at the post-graduate level. Research into specific programs can provide further detail for a portion of a program, an entire program or even an internship or fellowship in another country.
Specific programs and financial aid are also available through many universities abroad for those who have completed a bachelor's degree in the United States but want to further their education and experience life in other countries.
When considering a program like this, the best way to begin is to pick a location or a top three list of countries and/or cities that you would like to live in for such a long period. After narrowing down an idea of what locations are ideal for you, a search for the right program can begin.
Sometimes, obviously, your ideas may have to shift slightly, depending on program availability and other factors. Still, having a starting point can get you to the universities that can best fit your needs and allow for research into the grants and scholarships available to students from other countries that wish to attend specific programs at that university.
For example, Across the Pond is an organization that has partnerships with numerous universities in England, Scotland and Wales. These universities offer foreign applicants assistance in finding the right program and applying for the university and financial aid for the entirety of the program's duration.
Another useful resource for students interested in study abroad is the Study Abroad Blog, which is self-labeled a "survival guide for U.S. students studying abroad." The blog does help with numerous scholarships and programs available, detailing the aspects of study that funds can be used for as well as the programs the scholarships specifically provide funding for, i.e. humanities, sciences, etc.
The Center for Global Education also offers an all-inclusive site for those who wish to study or work abroad. The site also discusses internship and research opportunities in foreign countries and provides links for numerous search engines for the ideal study abroad program for each prospective student. The site can be accessed at globaled.us.
Among the search engines listed on the CGE's site is Peterson's search engine, which focuses on semester or yearlong programs in various countries. Both a simple search and an advanced search are available to help find the program that is best for each student. Also, programs offered by colleges in other countries, such as a program in London, England, at Sothesby Institute of Art, are listed along the side of the page.
One example of an advanced search using Peterson's search engine follows: a choice of Biological and Biomedical Sciences with a focus on Aquatic Biology and Limnology for a bachelor's degree results in eight schools. The downside of this search for United States residents is that six of the schools are in Florida, California, Texas and South Carolina.
The remaining two schools are located in Prince George, British Columbia and Montreal, Quebec. This means that a trip to Australia or Spain may be a more difficult undertaking. However, trips to Canada have the benefit of less time spent in a cramped seat on an airplane, almost no time spent over an ocean during plane travel and also the benefit of still getting to use a passport.
Printed Resource Texts
For those who prefer a printed guide to the details that need to be handled for a semester abroad, a list of comprehensive resource texts can be found at a page maintained by Vistawide World Languages and Cultures. The site holds details of texts like Study Abroad 101, which covers the important topics like financial aid, budgets, what to pack and even details on what to do after the trip is over and the student returns home.
Another text that is available is The Exchange Student Survival Kit, which discusses the issues a student will typically face while on such a trip away from home. These issues include culture shock, homesickness, preparing for the return home at the end of the time abroad and reverse culture shock. There is also the book Financial Aid Studying and Training Abroad, which is updated on two year spans and gives the student important details on 1,000 scholarships, fellowships, loans and grants that can be obtained to help pay for a study program in a foreign country.
Also, IIE Passport, one of the web sites listed above, has printed versions of its online materials, providing detailed assistance in two formats for students who will be braving such a worthwhile and unique experience as studying in a country far from home and family.
The books, titled Academic Year Abroad and Short Term Study Abroad are also texts that are regularly updated and have the years they focus on listed in the title. These books cover over 3,500 programs sponsored not only by both United States and foreign universities but also programs sponsored by museums and even those programs that take place during travel on a ship at sea. Well worth the time to explore, these texts can answer many questions that might not otherwise come to mind.
Finally, it is important to note that while traveling to a foreign country for an extended period and taking on such a challenge as studying toward a degree can seem daunting, it really does not have to be. With today's technology and the common focus by most universities on helping a student expand horizons, the ability to procure the appropriate information and funding for a study abroad experience is well within reach for any student. A few searches on the Internet and a few emails or calls to a university's foreign studies office and students are guaranteed to be well on their way to the experience of a lifetime.
College Grant Information By State