Meet Joe the plumber. No, not that one. This Joe the plumber, a 44-year-old tired of climbing under sinks and slogging through waste pipes, who wants to go to nursing school and deal with different types of plumbing problems. But with two children and a wife who hasn't worked outside the home in 10 years, Joe needs student grants to help offset the $40,000 in student loans his Bachelor of Science in Nursing degree will cost.
Joe and many like him are non-traditional students, older students who don't have recent SAT and ACT scores, a list of impressive high school extracurricular activities or a most valuable player trophy in a high school sport to help them get money for college.
While student grants are reasonably plentiful for top students, excessively plentiful for top athletes and occasionally available for first-chair cello players, top-notch plumbers don't usually make the grant list.
That doesn't mean that there aren't grants available for Joe; there are. But Joe and students like him, non-traditional students 25 years or older, will have to beat the bushes a little harder to find them.
Types of Grants
Grants don't require payback, but they may come with strings attached. You may need to maintain a certain grade point average or may not actually receive the money until the semester has ended.
Grants and scholarships are often essentially the same thing; if your local fire department offers a scholarship for volunteers, the terms for use will generally be the same as those for a grant.
The secret to obtaining grants and scholarships as a non-traditional student is to leave absolutely no stone unturned. Ask every organization you currently belong to or ever belonged to if they offer grants or scholarships, check for grants related to your family heritage, hound your human resources department and read every word of your military discharge information to see what costs they may cover.
States offer widely varying programs, depending on their local populations and the types of degrees needed by different industries within the state. Visit your state's financial aid website for tuition before searching for more obscure grants. Federal programs can be some of the easiest grants to obtain, since the government has deeper pockets than most small organizations and offers grants to more people.
Finding Grants
The best way to find grants is to search online. Calling different organizations, waiting for them to send applications in the mail, filling them out and sending them back in takes way more time than looking online, downloading applications and sending them in. If you haven't learned how to do much more on your computer than play solitaire, now is the time to learn. Ask your kids or grandkids for pointers on navigating the internet if necessary.
Pell Grants
Pell Grants are the obvious first choice for students of any age, since the federal government awards more of these grants than any other type. There's a catch, of course: Pell grants are income-based. If your family income is low enough, you can receive up to $5,350 per year as of 2012 toward school expenses if you go full-time. Part-time students receive proportionately less aid.
You won't see the entire amount at once, however; you receive a percentage each semester. You need to maintain a C average to keep your Pell Grant. The Pell Grant does not need to be repaid.
To apply, fill out the ubiquitous Free Application for Federal Student Aid, better known as the FAFSA form, required of every college student. The FAFSA form is available from your college financial aid office.
If you're a dislocated worker who cannot find a job in his previous field, you may qualify for additional aid. Many states have dislocated worker grant programs to help defray the cost of schooling if you need retraining in a new career field.
Non-traditional students are actually more likely to receive Pell Grants than traditional students, according to 2007-08 National Postsecondary Student Aid Study data. Approximately 40 percent of students age 24 to 29 and 32 percent of students 30 and over receive Pell Grant aid.
Workplace Grants
Large corporations as well as well-funded smaller corporations may offer college grants for employees. While some specify that the subject you study must have work relevance, others do not. Many require that you maintain a certain grade point average to keep your grant intact.
Check with your human resources department for possible grants if you plan on continuing to work for the corporation while going to school.
Over 85 percent of workplaces have some type of student aid for employees going back to school, according to FinAid.org. Wal-Mart offers up to $3,000 per year to associates who have been out of school for a year or more.
Traditional brick-and-mortar offices aren't the only ones offering grants; if you sell Tupperware in your spare time, you may apply for a college grant from the company. Workplaces often award money after the fact, based upon your final grades, so you may have to borrow the money and then pay it back with the monies you get after completing the classes.
Grants for Certain Professions
Nursing Grants
Nursing is one of several professions where states and other organizations give out grants to entice more people to enter the profession. Currently, 38 states offer assistance for nursing school to eligible applicants. Local hospitals may also offer grants to students who agree to work in certain areas after graduation.
If you already have a nursing degree, many programs offer grants to help you obtain an advanced degree in fields such as critical care nursing or advanced practice areas such as nurse practitioner certification or certified nurse-anesthetist programs.
TEACH Grants
Teachers-to-be may also find grants available, starting with the federal government TEACH Grant, which offers up to $4,000 per year for students planning to teach in schools that serve elementary or secondary students from low-income families or in a high-need field. High-need fields include math, science, special education, foreign languages and bilingual education.
The TEACH grant comes with a stipulation that you teach for four academic years within eight calendar years of completing the program. If you don't fulfill the requirements, your grant automatically converts to a Federal Direct Unsubsidized Stafford Loan. You will have to pay interest on the loan starting from the time you first received the grant.
Science and Engineering Grants
If you're going into engineering or computer graphics, you may have to look harder to find a grant in the field you hope to enter, but grants do exist in just about every field.
Engineers and science degrees are once more in demand; if you're looking into a math, science or engineering degree, the Computer Science Engineering Mathematics Scholarship and the National Science Foundation or the American Society for Engineering Education may help you find a grant that suits your needs. IBM Research also sponsors engineering grants primarily aimed at minorities.
Don't assume that studying music or dance takes you out of the running for grants; many schools or organizations dedicated to the arts offer grant money to worthy students.
Age-Related Grants
Senior citizens may have the easiest time of all finding grant money or even completely free tuition under state programs or programs sponsored by individual colleges.
If you're a senior over the age of 60 and want to take the classes but don't care about the credits, many colleges and universities offer senior citizens the opportunity to take classes for no charge or for a nominal fee.
No college credits are issued and you can't earn a degree this way, but if you're strictly wanting to increase your knowledge base, free classes are certainly worth a look. The only restriction is that there must be space in the classes you wish to take.
If you want to earn a degree, many states waive fees or charge reduced rates for seniors students; the age threshold may range from 60 to 65. Over 20 states waive all or part of tuition costs for seniors at state colleges; you're in luck if you live in one of the following, according to FinAid:
Alaska
Arkansas
Connecticut
Florida
Georgia
Illinois
Kentucky
Maine
Maryland
Massachusetts
Michigan
Minnesota
New Hampshire
New Jersey
North Carolina
Ohio
Rhode Island
South Dakota
Texas
Vermont
Virginia
Washington, DC
If your state isn't on the list, check anyway for programs that apply at specific colleges. Individual colleges may offer tuition reductions even if the state doesn't mandate them.
Military Grants
If you've served in the military, you receive student aid that will cover a good portion of your costs under the GI bill. If you're a military spouse, you may apply for financial assistance from the Military Spouse Career Advancement Accounts program. Your spouse must be one of the following ranks: E1-E5, W1-W2 or O1-O2.
The maximum financial amount for this benefit is $4,000, with a yearly cap of $2,000. You can apply this amount toward an associates degree, certification for a teaching degree, medical certifications or licensures. See this link for more information on applying for financial aid as a spouse of a military member.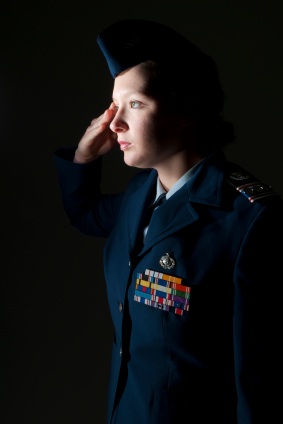 Members of The American Legion, the American Legion Auxiliary, or Sons of The American Legion are also eligible for grants through the American Legion.
Grants for Women
Many organizations offer grant and scholarship money specifically for women; while some stipulate certain income requirements, many do not.
Talbots, a women's clothing store, offers a number of financial aid scholarships to women who have been out of school for 10 years or longer. The Business and Professional Women's Foundation also offers financial aid for women over age 25.
The AARP Foundation Women's Scholarship Program also provides scholarship money to women in lower income brackets with limited financial resources. The Jeannette Rankin Foundation Women's Education Fund offers scholarships of $2,000 to 25 women age 35 and above.
Although many of these types of funds are called scholarships instead of grants, they are like grants in that they do not require repayment.
Organization Grants
Nearly every organization offers some type of grant or scholarship for college; membership is often but not always required.
If you belong to a union, you're as eligible to apply for your union's college grant program as the boss's kid is. Visit Unionplus.org or check with your local union representative for information about funding for further schooling.
Social and professional organizations as diverse and well-funded as Rotary International or as small as your city's bowling league may offer grants for college students. The Charles R. Ford Scholarship, for example, offered by the Jaycees, goes to an active member as a one-time grant of $2,500.
If you belong to the Elks, the Moose, the Masons or any other group with a secret handshake, you may also be eligible for grant money. While the amounts may not be large, typically around $500 per year or so, a few grants of this size can cut down on the amount of student loan money you need to take out.
Your bank, credit union, credit card or other financial organization may also offer grants for members.
Individual College Grants
Don't overlook the college you're planning on attending itself as a potential source of private grants or scholarships. A number of schools offer the Osher Reentry Scholarship for students ages 25 to 50, offered by the Bernard Osher Foundation and only available through the colleges themselves.
Many schools offer programs similar to the Middle Tennessee State University Older Wiser Learners, a program for students who belong to the OWLs organization for adult learners; check the school's financial aid website for information.
Minority Grants
Minorities go to the front of the line for certain grants. Native Americans, for example, who are enrolled members of a federally recognized tribe, can apply for a number of scholarships and grants. Americans who are at least one-quarter Indian blood quantum can attend college for free in Montana, for example. The Bureau of Indian Affairs is a good starting point for grants; reach them at 1-800-332-9186 for more information.
For African Americans, the United Negro College Fund maintains a list of grants. Large corporations such as Coca-Cola often offer minority grants; you do not have to work for the company to receive these grants.
If you're a little person, 4'10" or under, you can apply for a grant from the Little People of America. On the other hand, if you're over 6'2″ for men or 5'10" for women, you must be under age 21 to apply for the Tall Clubs International grant.
Grants for Disabilities
If you have a disability, the Department of Labor offers a limited number of grants to help with college expenses. Private organizations such as Lighthouse International may be able to help if you have a visual disability.
The Eastern Amputee Golf Association Scholarship Award offers six $1,000 scholarships to members who are amputees or to their family members.
Grants also exist for cancer survivors, people with blood disorders, autoimmune diseases such as lupus and lung diseases such as cystic fibrosis.
Religious Grants
If you're a member of a certain religious group, grants may be available for continuing education, particularly if you're interested in entering the clergy. Even if you're an atheist, the Atheists for Human Rights Awards group could help you out, if you meet their requirements.
Whether you belong to the Assembly of God Church, the Bahai, the Sikh or the Universal Unitarians, your church organization offers grants you can apply for. The Schaffner Trust Fund Grant, for example, specifies that you must have attended a Christian Scientist Sunday School.
Last Name Grants
Some grants fit categories where you might never think to look. A grant for people with a certain last name? Check out the grant for people whose last name is Van Valkenburg.
But the Van Valkenburgs aren't the only ones who can get grant money; if you're a Catholic attending Loyola University whose last name is Zolp, you can go to school free of charge for four years. Any members of the Scarpinato family, by birth or by marriage, have a free ride at Texas A&M University, while the last name of Gatling gets you up to $9,000 for in-state residents and $18,000 for out-of-state residents at North Carolina State University.
Harvard University offers grants for students with several last names, including Baxendale, Hudson, Thayer, Downer and Bright; the catch to these grants is that you still have to be accepted into Harvard to be eligible to receive the money.
No, you can't change your last name to one eligible for grant money; in most cases, the name must be on your birth certificate or marriage certificate.
Other Unusual Grants
If you're left-handed and plan on attending Juniata College, consider applying for their grant offered only to left-handed people. If you live in the Fairlawn School District in Ohio or once went to school there, you can apply for an adult scholarship. Many areas have similar grants for residents or graduates of certain schools or members of organizations.
If you're of Romanian, Welsh, Polish or Hawaiian descent or nearly any other ethnic background, some organization offers grants for people of your family background. If your great-great-grandad fought in the Civil War or your relatives came over on the Mayflower, historical organizations such as the Daughters of the American Revolution may be interested in giving you some of their money to keep your good name educated.
Keys to Success
Persistence and good timing are the keys to finding grants whether you're a traditional or non-traditional student. Applying early is key for many grants, which may close their applicant's list after they receive a set number of applications, such as 1,000. Most have deadline cutoffs which may be months before the start of the next school year.
Although it's tedious and nearly a full-time job in and of itself, apply for every potential grant you come across. When it comes to money for education, you can't ever have too much.
College Grant Information By State