Posted by
henry
on Jan 27, 2012 in
Education
|
0 comments
Your resume markets you. It tells an employer about your work experience, your education, your targeted and adaptable skills, your certifications and whether or not you can fit into a global market. It doesn't matter if you are applying for a local manufacturing job or applying for a graduate position in public relations. Conveying that you have the skills a global market demands is key to setting your resume apart from the masses. Sending the right resume positions you in the race for an open job. Employers also use resumes and cover letters screen out ill-suited prospective employees.
Cover Letter
If your cover letter is haphazardly written, unorganized with extraneous information that bears little of no meaningful insight into why an employer should look at your resume, consider your resume tossed. Cover letters must be professional, not overtly friendly. You're looking for a job, a career, not a buddy. Human resource offices are flooded with resumes. Your cover letter must concisely state how your experience, goals and values will fit the organization and fulfill the job requirements.
Styles of Resumes
Resume styles change over the years. If you are looking at a "how-to" book from the 1980s, you will see three types of resume styles: chronological, functional and targeted. Anything over one page was a no-no. Today's resumes play to a different market. You are competing globally and locally. Resume styles are chronological and reverse-chronological, functional and hybrid or combination. Every resume should be targeted and not general. Employers expect you to do your research on the companies you are applying to. Resumes can go over a page if needed and those with teaching or other professional experience such as engineering may have resumes of 7 pages. Educators often choose to use a specialized resume called a curriculum vitae—Latin for "course of life."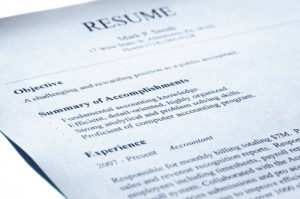 Resume Templates
You know the information you want to write on your resume. You have no clue how to start it or format it. Resume templates can help organize your thoughts. Most simply allow you to plug in your experience in a ready-to-print template. Some templates are online and allow you to submit your resume with a click of the mouse.
Resume Resources
Resumes are either paper or digital. Paper resumes should visually appeal to the reader, meaning that you use no special font or type size. Stick with what works and is easy on the eyes: Tahoma, Verdana, Arial and Times New Roman in 10 or 12 points. Keep your paper white, ivory or light gray unless you are an artist sure that any other color won't get your resume tossed in the nearest trash bin. Write in the "active past"—"Led 30 team members…" not "I lead 30 team members." Above all, proofread! Just one typo can put you out of the running for the job.
Examples of Resumes
Resume examples abound on the web. When you search for a resume sample, make sure to search by type of resume, whether it is a teaching, military or other career and put last year's date in the search field. This will help you target recent samples that fit today's job market. You don't want to follow a sample dated from 1999, even if it is a sample from a well-known university.
Employment Websites
If you choose to post your resume online at one of the mega-resume sites like monster.com or careerbuilder.com, you need to understand two things. One, you are competing worldwide. Two, your resume will be buried unless you purchase premium resume location. Typically, headhunters and human resource personnel won't peruse past the first page they pull up on a search. They don't have the time and many figure that if you don't care enough to make your resume stand out among the rest, then you aren't serious about your qualifications or the position.